OSTEO
ARTHRITIS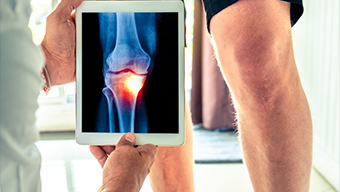 It is a joint disorder caused by the erosion/ breaking of cartilage that cushion bones at joints and causing pain, swelling and stiffness as bones rub together. Research Proved that Ayurveda treatment outcome is better than or equal to conventional drug for improvement of pain and joint function. . Ayurvedic medicines have demonstrated remarkable Anti-inflammatory and Immune-modulatory activities that are relevant and potentially useful to treatment of chronic musculoskeletal disorders. The goal of OA treatment is not only control symptoms but also prevent disease progression, minimize disability, and improve quality of life. Allopathy Sideeffects : Non-Steroidal Anti- Inflammatory Drugs (NSAIDs) commonly used in Allopathy, relieve pain and stiffness. In long term they are dangerous in the elderly and in the presence of renal insufficiency and gastrointestinal disorders. Ayurveda is effective in treating chronic musculoskeletal Disorders with no adverse effects on other vital systems of the Human Body.
The condition similar to Osteo arthritis has been described as 'Sandhigatavata' in Ayurveda.
CAUSATIVE FACTORS
1) Lifestyle
2) Consumption of dry, cold or stale food.
3) Irregular sleeping habits, Suppression of natural urges.
4) Exposure to severe cold, and dry weather
Local factors-
such as degeneration of the cartilages due to ageing
Excessive strain on the joint
Any kind of injury to the joint, are the frequent causes of arthritis.
---
Symptoms of Osteoarthritis
Moderate to severe pain at the affected joint
Joint stiffness observed especially after long spans of rest to the affected joint
Restricted and painful movements of the joint.
Crunching or crackling noise when the joint moves (crepitation);
Localized tenderness in severe cases, Swelling.
Increased local temperature at the affected site.
Management (to be taken under supervision of Registered Ayurvedic physician).
---
Shamana (Palliative) treatment:
The following drugs (single / compound formulations) are commonly used for prevention and control of osteoarthritis (sandhivata):
Single Drugs Shunthi (Zingiber officinale Rose.) churna, Eranda Mula (Ricinus communis Linn.) Kvatha, Nirgundi (Vitex negundo Linn.) kvatha, Guggulu (Commiphora wrightii Arn.) Nirgundi Eranda Sunthi, Guduchi .
Compound Formulations For internal use: Maharasnadi kvatha, Dashamula kvatha, Rasnadi kvatha, Maha Yogaraja guggulu, Yogaraja guggulu, Guggulutikta ghrita, Panchatikta ghrita guggulu;
For external application: Mahanarayana taila, Vishagarbha taila, Narayana taila, Mahamasha taila, Saindhavadi taila - are beneficial Samshodhana Chikitsa (Purificatory procedures):
Samshodhana Chikitsa is a specialized therapeutic approach of Ayurveda to eliminate toxins from the body by giving Panchakarma. It is usually followed by Shamana Chikitsa (Palliative therapy).
---
PREVENTIVE MEASURES
Life Style Modifications – The following measures may reduce the risk of developing OA
Do's:
Intake of Madhura (sweet), Amla (sour), Lavana (salt) and Snigdha (unctuous) food, Garlic, Ginger, Hingu, Black pepper etc Regular habit of Exercising; Maintaining optimum weight; Avoiding excessive repetitive motions; Healthy diet; Protecting an injured joint from further damage.
Dont's:
Long fasting and excess of heavy food Awakening at night (Ratri jagaran), Vega-vidharana (suppression of natural urges), Stress, Prolonged standing, Over exertion and injury to joints.
At Swastha Ayurveda we makle a comprehensive treatment plan , with focus on lifestyle and nutritional advice, dietary supplements, Ayurveda medication, Yoga, and purification measures.